100 % dedicated & properly equipped to assist investors who require facts, knowledge, income, and confidence to preserve and grow generational wealth.
Canada Income Wealth Management (CIWM) conducts its advisory business on the independent integrated platform of Aligned Capital Partners Inc (ACP).
Gyulmet Ramazanov is a founder and investment advisor at CIWM. For over a decade, he has been helping Canadians preserve their wealth and generate income by taking the time to get to know them and focusing on their financial needs.
No product ties. No incentive to sell investment products.
Lower fees can save you 30%-40% on cost.
Transparent and visible pricing for managing your portfolio.
Flat-fee structure. Aligned client-advisor interests.
You are in wealth accumulation stage, near retirement or have retired.
You want to know how much you are paying and how much you're getting paid. You need an advisor who has no outside incentive, a transparent/visible fee and who puts your interests first.

If you're in the wealth accumulation stage, near retirement, or have already retired, I can help you preserve or grow your wealth and generate tax-efficient income.
Diagnosis
Mapping
Execution
Visualization
Readjust and Restructure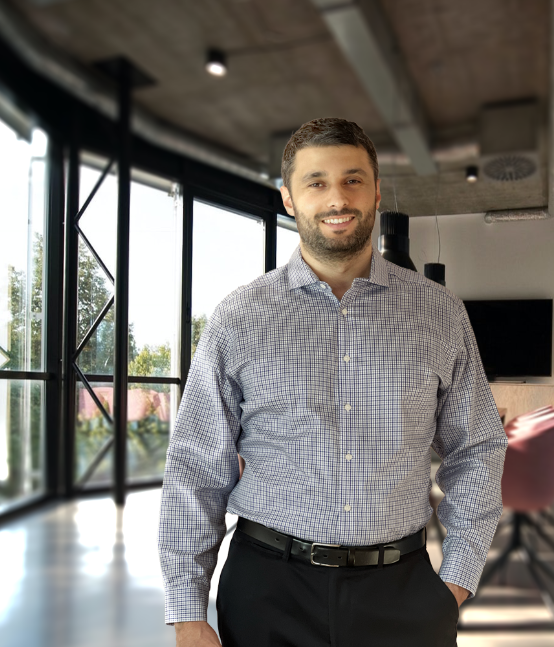 GYULMET RAMAZANOV
Founder and Investment Advisor, CIM
Associate Portfolio Manager
I have been in the financial service industry since 2009. I hold a Bachelor of Commerce degree from the University of Toronto, an MBA and a Chartered Investment Manager designation.
Since 2009, I have learned the key component to successful financial partnerships is to understand your needs and goals. Finances are a powerful and emotional component of modern-day life. Without capital, life can be challenging and stressful.
I believe wealth management isn't just about numbers on a piece of paper –it is your life. Which is exactly why our services combine thoughtful and personalized portfolio strategies with advice, coaching, and resource support geared to your financial goals.
Whether it is your retirement, your children's education, or your well-being; Canada Income is all about you and your successes!
ABOUT 5 STEP PROCESS
Following 5 Step Process, together we will evaluate your life stage, risk tolerance, and aspirations to design an individualized portfolio. Making sure to explain technical terms in a way all can understand, open dialogue and transparency is the key to your better future!
Gyulmet has been my financial advisor and an advisor to one of my sons. He understands my investment objectives and constantly watches the market for trends and oppertunities. Seldom a mointh goes by where we do not have a conversation about market trends and oppertunities.
Gyulmet has demonstrated the dedication, integrity, responsiveness and friendliness that make him a trustworthy person and a great financial advisor. His thorough understanding of the market and the discipline to wait to meet my tailored investment objectives have enabled him to deliver results!
Gyulmet has been my financial advisor for close to decade. He has a good grasp of my financial goals and my tolerance for risk. He has consistently maintained my portfolio to maximize opportunities for growth and communicated any issues that have arisen with suggestions as to how best to resolve them to my advantage....
Gyulmet works hard in conducting market research, ensuring he is up to date and informed. Because of this he is able to take advantage of opportunities others miss. His dedication, integrity, responsiveness and friendliness make him a trustworthy person and a great financial advisor...
Gyulmet Ramazanov, CIM, MBA is the best financial advisor I have worked with. He keeps in contact and each item is discussed.
I have been with Gyulmet for several years now, and the thing I like best is that he both listens and hears. Excellent advice too.
Highly recommend Gyulmet. Very knowledgeable and actually follows up with his clients. His focus is on ensuring his clients continue to grow their portfolio.
Gyulmet was an amazing and knowledgeable mentor to me in the introduction to the world of the investment advisor business. Very early in my career he chose me to intern at Pace securities and he coached and helped hone my skills when it came to client contacting, client sourcing...
"I got an opportunity to work under the direct supervision of Gyulmet during my co-op with BMO Nesbitt Burns. Through out my journey of working with him, he has been a tremendous mentor and a great person to work with. He was always there to answer all the queries and guiding into the right direction ...
You have decided to be more organized and focused on accumulating wealth. In the long-term, you want to achieve financial independence and desired lifestyle.
Your main considerations are when  to retire and what level of lifestyle will you be able to maintain during retirement. Retirement is all about cash flow and creating your "retirement pay-cheque".
You want to know how much of your retirement income will come from your investment assets and what is the best strategy to withdraw funds.
5 STEPS Mapping Your Road To Income Independence
Together, we will review all of your financial statements, obligations, and information related to assets and liabilities to better understand your current financial circumstances. I use various tools to make informed decisions about how your finances should be structured and implement tactics and strategies to help you achieve your financial goals. We will also analyze your lifestyle, values and financial goals.
Based on your profile and input I will point at strengths, weaknesses and I will also identify opportunities.
This combined with my objective, tax-optimizing approach to investing, is the foundation of our personalized income playbook and withdrawal schedule designed specifically for you.
I will present risk-managed investment recommendations at this stage.
We put in action strategies and tactics identified in the previous stages. This might involve discussing your financial plan, monitoring progress towards financial goals, and making adjustments as needed. This stage can include a variety of activities, such as investing, saving, discussions about debt management, risk management and tax planning. 
While the financial plan is your road map into the future, income needs forecasting is a visual projection of your means to secure the future. Cash flow analysis involves calculating your odds of desired outcomes, and I look at future commitments and evaluate the risk to your financial independence. Financial forecasting is an annual process, but its important to be flexible as regulations and news become available.
5. READJUST AND RESTRUCTURE
Reliable revenue generation in retirement requires continuous communication, monitoring, and analysis. This is to ensure that we meet your objectives and fulfill your needs. We stay in touch and you can expect emails, phone calls and ideas throughout the year.
We recommend regular video, personal or phone review meetings at least once a year to assess your financial progress, capture your changing circumstances, evaluate alternative strategies and, if necessary, recommend adjustments.
Meetings are set up for your convenience, in the office, by phone, or through virtual meetings.
Mortgages, debt, retirement, insurance… it can seem impossible to do it all right. A little planning and mindfulness can go a long
WHY AN INTEGRATED ADVISORY BUSINESS MODEL IS A WIN-WIN FOR RETIREMENT PRACTITIONERS
Why people change advisors and why would you short list us as a possible choice? What are the advantages of working with us?
Here are five reasons to consider:
1. Big Picture perspective
This involves looking at all aspects of your financial situation, including your goals, risk tolerance and overall financial health, in order to create a comprehensive wealth management plan.
2. Fee-Based
Being fee-based means our economic interests are aligned with yours. If you are successful, we are successful. It also means you aren't tied up for years in complicated products. We are humans, so we have made some mistakes before, but we learned from them, we got better and moved on. We also believe this is the best client-advisor relationship model.
3. I am an Advisor, Not a Salesman
I focus on understanding and meeting your unique needs and goals, and providing personalized recommendations and strategies that are tailored to your individual financial situation.
4. Honest and Direct Advice
I pride myself on giving advice that is not only honest, but its also direct. Sometimes, that means giving you recommendations and advice you need to hear. I believe that plain-spoken, direct advice will better help you reach your goals.
5. Evidence Based, Education Driven
Deciding who to work with can be a complicated process.
How do you know who is verifiably trustworthy? We offer free education on important topics. You "can kick our tires." Watch our video, Schedule personal meeting, review testimonials, Let's talk.
However, the best way to know is to give us a try. The worst-case scenario, although the probability is very low, you will close your account and move on (no penalties or strings attached). We take care like you are a family.
Let me be radically honest. I am independent advisor, experienced, straightforward and I work for you.
Aligned Capital Partners Inc (ACPI), a pioneer in the investment dealer community in Canada, has been providing independent investment advice to retail investors since 1987. ACPI is well funded and supported by CI Financial Corp, major stake holder and the largest Investment management firm by assets under management in Canada.
ACPI has over 200 advisors with approximately $10B in assets under administration.
ACPI is regulated by IIROC.
All individuals registered with IIROC are subject to rigorous, comprehensive training and screening. You can also find the Know your Advisor: IIROC report here. Your accounts are protected by the Canadian Investor Protection Fund (CIPF).
CI Investment Services Inc. is a wholly owned subsidiary of CI Financial Corp. (TSX: CIX). CI Financial is a diversified global asset and wealth management firm with $430.3 billion in assets (as at August 31, 2023). CI's primary operating companies are CI Global Asset Management, CI Assante Wealth Management, CI Private Wealth, Corient Private Wealth and Aligned Capital Partners.